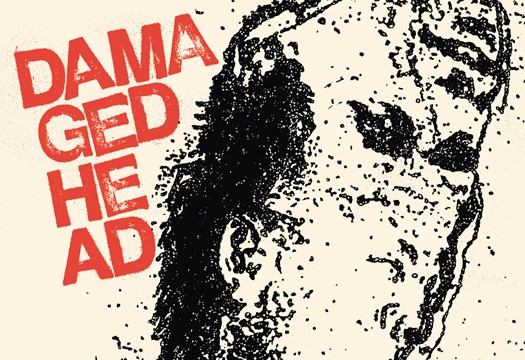 Damaged Head – Gone EP
I've had the pleasure of working together with the dynamic duo of Damaged Head and Adult Crash Records twice before, and jumped on the chance to make it three. This is definitely the one that took the longest to complete – and that is all on me,  as I kept trying new variations of how to present the lyrics. That said I am happy I didn't settle for the first, second, or third option, but rather kept at it until I was truly satisfied. The lyrics are laid out together with scans from various books that I have read the latest year, all more or less relating to having a damaged head, and the trials and tribulations that may cause in a person's life.
The front cover is the outcome of just playing around with two different photos I found in books at my local flee-market (the same goes for the baby doll and the man on the B side label), the lower actually being the face of a javelin thrower just as he is about to throw his spear. The hand reaching for Gustav's head on the back cover is mine.
All the little lines that are used on the back cover, the insert and the labels to square or circle in things were individually cut and pasted. Once again, surely not the most efficient way to go about things, but so much more rewarding for the final product.
A big thank you to the band and to Jakob/Adult Crash for the continued confidence in me and my work.
Order the record at adult-crash.com 
Listen to the record at Damaged Head's bandcamp site.
Check out more on Damaged Head's facebook page.