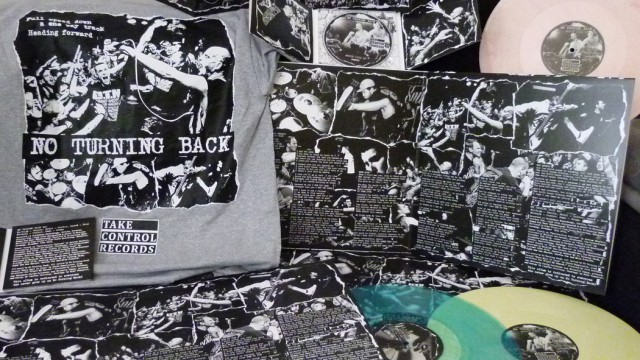 No Turning Back – Never Give Up LP
When Martijn from No Turning Back approached me about the design for their upcoming LP "Never Give Up" I got super excited. If you want me to do it, I said, it will be a more old school cut and paste feel to it compared to your most previous releases. That's exactly what we're looking for, Martijn replied. We had a match! The artist that the NTB dudes had in mind for the front cover drawing didn't work out, so we got Mike Tommyrot on board. I've previously worked with Mike on the Damaged Head EP on Adult Crash and Man In Decline. He got to work, and meanwhile I started digging through piles of cool photos of No Turning Back. I made a lengthy article about the band in Law & Order #5 so I already had a lot lying around. I purchased a type writer and got all the lyrics done. Rather than cutting the printed photos, I tore them by hand before glueing them on thick black paper and re-scanning them. After finishing the gatefold LP verison, I also made a digipack CD version with a 12 page booklet. To top it all of, I also made a shirt design out of the material.
I am super happy and proud over this design.
Bonus: Someone tattooed this, so my typewriter's little faults and specifics are now on someone's skin forever.