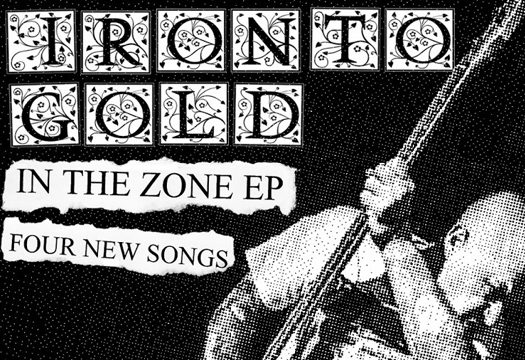 Iron To Gold – In The Zone 7″- flyer
Iron To Gold were one of my favorite hardcore bands during their five active years. A great demo was followed by two incredible EPs in 2011, with these old school Poles perfecting their ultra tight mix of Judge, early Strife and Inside Out. Over time I was blessed by getting to know the band a little bit, after seeing them a few times on their home turf (one of these occassions can be found here, listen to me having a conversation with someone 60 seconds into it: "many kids in Sweden respect Sunrise a lot, as well"), and hanging out at Fluff Fest and in Stockholm (where one of the guitar players, Piotr, lives). We brought the band to Sweden for their first international shows in October 2012. I had Pat write a lengthy piece for my fanzine Law and Order in which he described the concept behind the band and its lyrics. Pat later asked me to make a flyer for their third 7″, entitled "In The Zone." The directions were clear: "make it look like a flyer for 'Only The Strong' compilation," Pat said, referring to the early Victory release. In the end, after giving it my own touch, I realized it was pretty close to a Hardware Fanzine look, and so I just went all in with that.
Thank you for the music buddies, and for letting me be a tiny part of your legacy.
Listen to Iron To Gold here.
Iron To Gold on facebook.