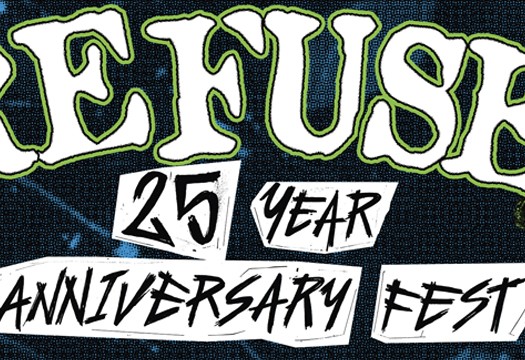 Refuse Records 25 Year Anniversary Fest poster
I had a lot of fun creating this poster for Robert, and feel honored to have been able to be a part of his celebration of 25 years of running Refuse Records. He's closing in on 150 releases, and he still keeps true to the game, supporting fresh new bands as well as digging out old gems from Poland. There aren't many of his kind.
The main image is of Andrea, the singer of Waste. On the sides are a bunch of images from record covers and other label related things. Can you spot Brian Catharsis' mugshot? Or the same guy on a moped? How about the two images of Wolfie (Government Flu drummer extraordinaire)? There's also the endlessly funny quote "I just to endeavor sausage" from the Pure – "No One Proper Way" cassette that Robert released as Refuse 007 many a moon ago. Aaaaand since I am who I am there are also some things that we won't talk about (nothing that would get Robert into trouble, that much I can promise).
The framed poster is printed in A2 format.