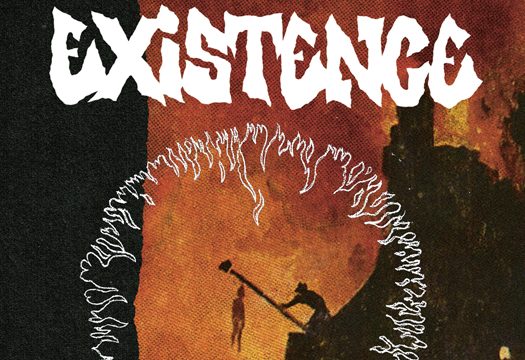 Existence – Into The Furnace 7″
My first time doing a design for Quality Control, after previously just having helped out with getting stuff done by others ready for the printers. What better way to pop that cherry than with the assistance of these sweethearts from Stockholm?
It took a while before we knew what to do with the front cover for this one. My buddy Jacob drew the band logo (as well as the burning hand on the inside), and we tried placing it in various ways before settling on a simple centered logo at the top. We had a couple of different ideas for a main image, including a kick-ass photo that we liked a lot but decided to skip. In the end, this detail from a painting by Hieronymus Bosch worked really well. I worked for a bit to make the colors of it match well with the colors on the backside and inside of the gatefold, drew the sun outlines, and it finally felt like we had a front cover.
Andreas Ljungman took a sick band photo that I knew would be the center piece of the back cover as soon as I saw it. I am a fan of credits being listed on the back of records, so I went with that.
The A side label is a remake of a classic rock record.
The record release show was at Outbreak Fest in Leeds, and I was asked to do a release cover for that. The theme is people who are about to meet their fate, either by their own hands or by acts of others. The center image is… well those who know, know. The release version was limited to 30 copies.