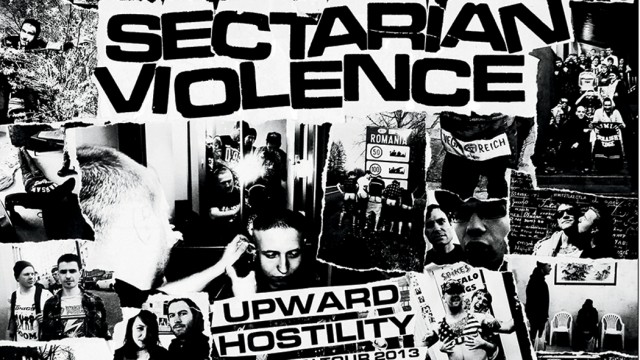 Sectarian Violence – European tour version of "Upward Hostility"
During our spring 2013 tour of the UK, France, Spain and Portugal, we sold a large quantity of white label test presses, as the real pressing was delayed. I got the task to do a tour edition cover, and decided to make a classic photo collage. I love getting busy with a scissor, paper and glue. Most of the pictures are from the European and US tours of spring and summer 2012, while the back also carries some other images, such as the French resistance fighter, and the Pentagon. A lot of our friends are featured in pictures, and a lot of the pictures have special meaning to us, which made it a fun thing to present to the guys once I was done.
The lyrics are the same as on the insert of the "real" European version of the LP, originally done by our vocalist Nick, I just printed them and cut them a bit differently.